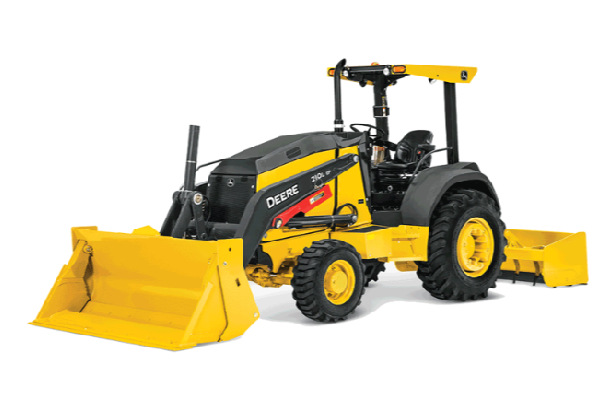 Double tap to zoom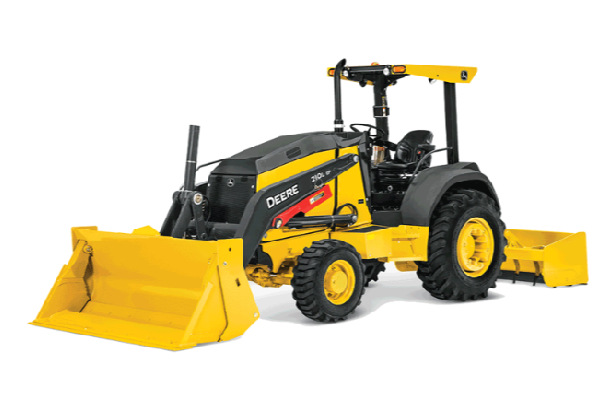 Features
Mechanical-Front-Wheel Drive
Mechanical-front-wheel drive (MFWD) and differential lock can be engaged on-the-go to give extra traction in poor underfoot conditions or for moving heavy loads. Optional limited-slip front axle delivers 65 percent of available power to the tire with the best traction. For true all-wheel-drive pulling power.
Engine
Yanmar 3.3L Interim Tier 4 engine complies with EPA FT4 emission regulations. With no aftertreatment components needed, the design minimizes machine complexity and the number of parts that must be maintained by the customer.
Eco Mode
Standard economy mode helps maximize fuel usage in lighter-work applications with minimal effect on machine performance.
Ride Control
With ride control activated, front loader hydraulic cylinders act as a shock absorber, smoothing travel over rough terrain, helping full loads reach their destination, and reducing operator fatigue.
Productivity
New hitch design makes it easier to position the box blade over the pile for more versatility and productivity.
Integral three-point hitch accommodates a variety of tools
Operator Comfort
Choose cab or open operator station.
Higher canopy with wider and lower step provides better visibility over the hood and to the corners of the front bucket, as well as to the rear box blade. Makes it easier to service under-canopy components, too.
Easy Maintenance
Two-position tilt hood provides same-side ground-level access to engine and transmission dipsticks, engine-oil fill, fuel and air filters, and coolant reservoir. Fuel fill is also closely convenient.
Specifications
DRIVELINE
| | |
| --- | --- |
| Engine manufacturer | Yanmar |
| Engine model | 4TNV98CT |
| Emission rating | Interim Tier 4 |
| Displacement, ltr (Inches³) | 3.3 (203) |
| Rated speed, rpm | 2010 |
| Net output, kW (hp) | 51 (69) |
| Transmission type | Power Shift |
| Number of speeds - forward | 4 |
| Number of speeds - reverse | 2 |
| Front axle type | Mechanical FWD |
| Service type | Wet Multi Disc |
| Service actuation | Hydraulic w/Power Assist |
DIMENSIONS
| | |
| --- | --- |
| Overall length, mm (ft/in) | 5310 (17 ft 5 in) |
| Minimum transport height, mm (ft/in) | 2620 (8 ft 7 in) |
| Overall width, mm (ft/in) | 2130 (7 ft ) |
| Std shovel width, mm (inches) | 2184 (86) |
| Dump Clearance @ 45 deg, mm (ft/in) | 2660 (8 ft 11 in) |
| Dump Reach, mm (inches) | 765 (30.1) |
| Bucket Hinge Pin - Max Height, mm (ft/in) | 3360 (11 ft ) |
| Coupler | Pin-On |
CAPACITIES
| | |
| --- | --- |
| Fuel tank capacity, ltr (gallons (US)) | 117.3 (31) |
| Hydraulic tank capacity, ltr (gallons (US)) | 45 (11.9) |
| Shovel cap SAE heaped, m³ (yd³) | 0.86 (1.12) |
| Alternator capacity, Amp | 130 |
PERFORMANCE
| | |
| --- | --- |
| Max. Forward Speed, kph (mph) | 36.2 (22.5) |
| Max. Reverse Speed, kph (mph) | 12.2 (7.6) |
| Lift Capacity to Full Height, kg (lbs) | 2876 (6340) |
| Oscillation angle, ± Degrees | 22 |
| Power Take Off | No |
| Breakout force std shovel, kN (lbf) | 38.7 (8700) |
| System voltage, V | 12 |
| Pump type | Gear |
| Pump flow, lt/min (gallons (US) / min) | 104 (27.5) |
| System pressure, bar (PSI) | 220.63 (3200) |
WEIGHTS
| | |
| --- | --- |
| Operating weight, kg (lbs) | 4794 (10569) |