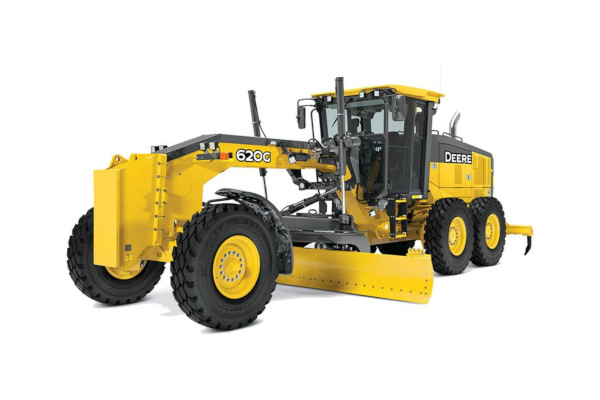 Double tap to zoom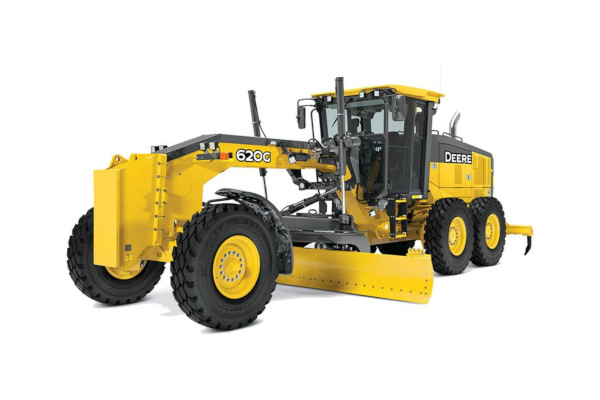 Features
Industry-First SmartGrade™ Configurations.
John Deere SmartGrade Motor Graders are fully integrated and calibrated from the factory, arriving at your jobsite ready to work.
Integration into the SmartGrade cabin and structures helps shield key grade-control components such as wire harnesses and sensors from damage and theft.
Optional Dual Joystick Controls
Optional dual-joystick controls require significantly less wrist motion to articulate the motor grader than competitive joystick controls.
Engine
The EPA FT4/EU Stage IV engine employs field-proven cooled exhaust gas recirculation (EGR), a diesel oxidation catalyst (DOC), and selective catalytic reduction (SCR).
Piston design improvements allow particulate matter to be burned in the cylinder, so there's no need for a diesel particulate filter (DPF), saving service time and lowering operating costs.
Auto-idle automatically reduces engine speed when hydraulics aren't in use. Auto shutdown further preserves precious fuel.
Controls
Ergonomically correct short-throw pilot levers provide smooth, predictable fingertip control with less movement and effort.
Push buttons in the right lever allow predictable control of auxiliary hydraulic flow for operating attachments. Optional sliding switch provides proportional speed control.
Press the power-boost button on the right-hand control for extra digging power. Power boost also kicks in automatically in boom-up/lifting functions.
Productivity
Generous flow, arm force, and swing torque help speed cycles. So you can do your best to stay on schedule or ahead of the weather.
Three productivity modes allow you to choose the digging style that fits the job:
High-productivity delivers more power and faster hydraulic response to move more material.
Power delivers a balance of muscle, speed, and fuel economy for normal operation.
Economy limits top speed and helps save fuel.
Specifications
DRIVELINE
| | |
| --- | --- |
| Engine Manufacturer | John Deere |
| Engine Model | PowerTech PSS 6.8L |
| Displacement, ltr (Inches) | 6.8 (414) |
| Engine Output - Net, kW (hp) | 160 (215) |
| Torque Rise, % | 49 |
| Transmission Manufacturer | John Deere |
| Number Of Speeds - Forward | 8 |
| Number Of Speeds - Reverse | 8 |
| Tire size - Standard | 14.00 - 24 |
| Service Brake Type | Multiple Wet Discs |
| Service Brake Actuation | Hydraulic |
DIMENSIONS
| | |
| --- | --- |
| Overall Length, mm (ft/in) | 8890 (29 ft 2 in) |
| Height Over ROPS, mm (ft/in) | 3180 (10 ft 5 in) |
| Wheelbase, mm (ft/in) | 6160 (20 ft 3 in) |
| Bladebase, mm (ft/in) | 2570 (8 ft 5 in) |
| Height Over ROPS (Option), mm (inches) | 3400 (134) |
| Moldboard Height, mm (inches) | 610 (24) |
| Width - Moldboard, mm (ft/in) | 3660 (12 ft ) |
| Frame Circle Diameter, mm (inches) | 1524 (60) |
| Thickness - Moldboard, mm (inches) | 22 (0.88) |
| Moldboard Sideshift - Right, mm (inches) | 683 (26.9) |
| Moldboard Sideshift - Left, mm (inches) | 683 (26.9) |
| Shoulder Reach - Right, mm (ft/in) | 2083 (6 ft 10 in) |
| Shoulder Reach - Left, mm (ft/in) | 2083 (6 ft 10 in) |
| Circle Rotation, | 360 |
| Bank Angle, | 90 |
| Hydraulic Blade Tip - Forward, | 42 |
| Hydraulic Blade Tip - Rearward, | 5 |
| Moldboard - Lift Above Ground, mm (inches) | 490 (19.3) |
| Turning Radius - Minimum, m (ft/in) | 7.21 (23 ft 8 in) |
| Frame Articulation, | 22 |
CAPACITIES
| | |
| --- | --- |
| Fuel Tank, ltr (gallons (US)) | 416.5 (110) |
| Hydraulic Tank, ltr (gallons (US)) | 60.5 (15) |
PERFORMANCE
| | |
| --- | --- |
| Loading - Front Axle, kg (lbs) | 4178 (9210) |
| Loading - Rear Axle / Tandem, kg (lbs) | 11567 (25500) |
| Speed 8 - fwd, kph (mph) | 45.5 (28.3) |
| System Voltage, V | 24 |
| Pump Flow, lt/min (gallons (US) / min) | 212 (56) |
| Relief Pressure, kPa (PSI) | 18961 (2750) |
WEIGHTS
| | |
| --- | --- |
| Weight With Push Block & Ripper, kg (lbs) | 18302 (40350) |