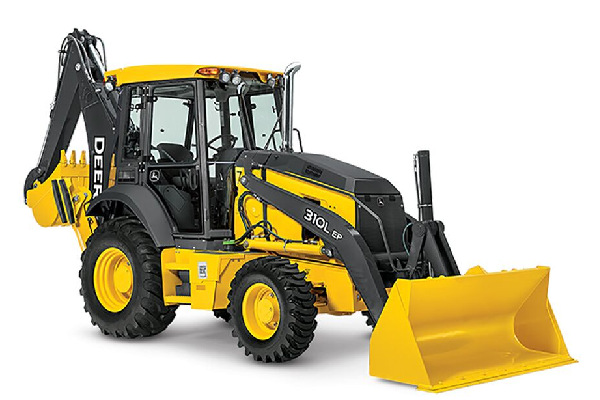 Double tap to zoom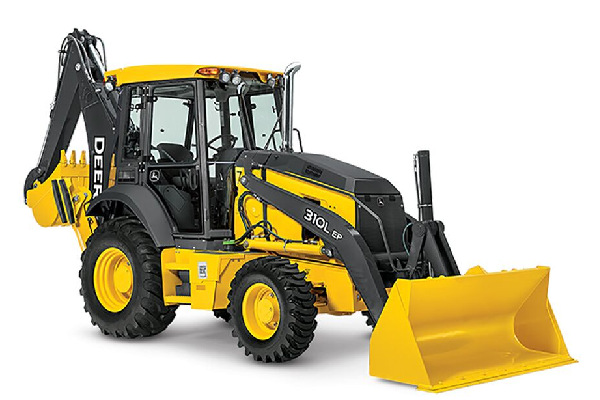 Features
Engine
Yanmar 3.3L Interim Tier 4 engine complies with EPA FT4 emission regulations. With no aftertreatment components needed, the design minimizes machine complexity and the number of parts that must be maintained by the customer.
PowerShift™ Transmission
Standard John Deere PowerShift™ Transmission provides smooth, on-the-fly, clutch-free gear shifts.
Mechanical Front Wheel Drive
Optional limited slip MFWD delivers superior traction that delivers up to 65% of the available power to the wheel with the best grip. The axle design removes the need for 'breathers', eliminating the potential for contamination by dirt or water.
Cab and Controls
L-Series pilot towers provide more legroom and additional space for transitioning between loader and backhoe operation. Palm-on-top loader-control grip makes operation even easier with integrated electric clutch disconnect.
Ride Control
Optional ride control, front loader hydraulic cylinders act as a shock absorber, smoothing travel over rough terrain.
Easy Maintenance
Same-side, ground-level service points help speed daily checks and fills. Other common-sense features such as quick-change filters, extended service intervals, simple-to-read sight gauges, and easy-access grease zerks help increase uptime and lower daily operating costs.
Security
Machine-security system with touchpad passcode helps prevent unauthorized operation.
Specifications
DRIVELINE
| | |
| --- | --- |
| Engine Manufacturer | Yanmar |
| Engine Model | 4TNV98CT |
| Displacement, ltr (Inches³) | 3.3 (203) |
| Rated Speed, rpm | 2010 |
| Engine Output - Net, kW (hp) | 51 (69) |
| Transmission Type | Powershift |
| Service Brake Type | Wet Multi Disc |
| Service Brake Actuation | Hydraulic w/Power Assist |
DIMENSIONS
| | |
| --- | --- |
| Max length with std. Stick, mm (ft/in) | 7240 (23 ft 9 in) |
| Height over std Stick, mm (ft/in) | 3420 (11 ft 2 in) |
| Width over tires, mm (ft/in) | 2160 (7 ft 1 in) |
| Wheelbase - 4WD, mm (ft/in) | 2190 (7 ft 2 in) |
| Ground Clearance, mm (inches) | 293 (12) |
| Width - General Purpose Shovel, mm (ft/in) | 2184 (7 ft 2 in) |
| Bucket Rotation - Position 1, ° | 190 |
| Shovel Pin Height - General Purpose, mm (ft/in) | 3480 (11 ft 5 in) |
| Dump Height - General Purpose, mm (ft/in) | 2740 (9 ft ) |
| Dump Reach - General Purpose, mm (inches) | 702 (27.7) |
| Digging Depth - General Purpose, mm (inches) | 70 (2.8) |
CAPACITIES
| | |
| --- | --- |
| Fuel Tank, ltr (gallons (US)) | 128.7 (34) |
| Hydraulic Tank, ltr (gallons (US)) | 45 (11.9) |
| Rear Axle, ltr (gallons (US)) | 18 (4.75) |
| 4WD Front Axle, ltr (gallons (US)) | 6.5 (1.725) |
| Shovel Capacity - Standard General Purpose, m³ (yd³) | 0.77 (1) |
| Battery Voltage, V | 12 |
| Bucket Tearout - Non-Extending Dipper, kN (lbf) | 48.2 (10844) |
| Stick tearout, kN (lbf) | 31.1 (6992) |
| Boom Lift - Maximum Reach - Non-Extending Dipper, kg (lbs) | 1061 (2339) |
| Shovel Breakout - General Purpose, kN (lbf) | 41.6 (9361) |
| Lift To Full Height - General Purpose Shovel, kg (lbs) | 2919 (6435) |
| Pump | Axial Piston Pump |
| Pump Flow, lt/min (gallons (US) / min) | 128 (33.7) |
WEIGHTS
| | |
| --- | --- |
| Operating Weight, kg (lbs) | 6270 (13822) |
| Weight - 4WD, GP, std Stick, kg (lbs) | 6438 (14192) |